"various countries' trendiest festival of expo2010" will be hold in the cool dock in 2010.
Through this activity, the fashion and new prominence of the cool dock will be continued. At the same time ,cooperating with the commercial operators in a greater density and upgrading the brand and human flow greatly . The cool dock will become a new fashionable landmark. For show all produce of Greece trendiest.
The period of this activity is six months; it links with the World Expo closely at the same time. This series activity will prepare for tourists more, then tourists from different countries can understand Shanghai and the Bund deeper.

Theme:

Greece Trendiest expo2010 Festival



Time:

22 ARY 2010---12 JUNE 2010



Purpose:

Increase the brand appeal of the cool dock
Expand awareness in consumers
Upgrade the confidence and turnover of existing businesses
Building surrounding communities, office, new entertainment sites during Word Expo
Increase the building of data of the cool dock Through activities , prepare for the following activities
Venue: Shanghai Shiliupu the old pier
Forms:

Band live performances (with a small free refreshments)
Related display and promotion of Greek tourism
Greek style and Humanities Art Exhibition
live interactive game
Greek related retail market
The tasting of Greece-related industries
Lucky Draw (Double Greece holiday packages temporary decision)
Offer:
1)9-18 square meters booth provided free of charge to each company participating in the exhibition.
2)During the World Expo in Shanghai 1/05-31/10/2010.
Payment for trip: Date exhibition 20/03/2010- 30/03/2010 for

| | | | |
| --- | --- | --- | --- |
| PERSON | HOTEL | PRICE(Euro/PAX) | TOTAL(Euro) |
| 40 | 4* 20twin room | 1500 | |
Included:
. 4* hotel in china with breakfast
. Air ticket Athens-china
. Sightseeing and entrance fees in china (according to the itinerary)
. English-speaking guide in china (according to the itinerary)
. Transportation in china (according to the itinerary)
. Air-tickets and railway-tickets in china ( according to the itinerary)

Excluded:
. tips for guide and driver in China(4 Euro/pax/day)
. medical insurance
. air-tickets Athens-China-Athens
. Supper and lunch in china( according to the itinerary)
.visa fee 25Euro/person

Media Plan: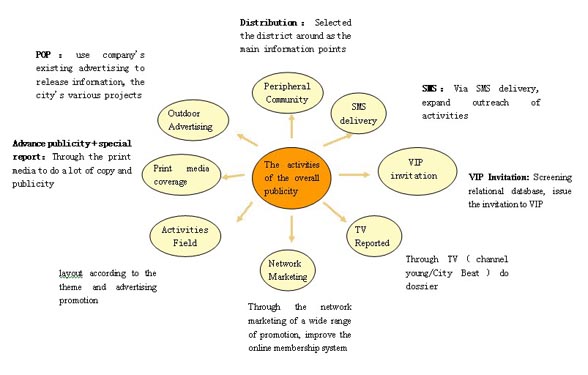 Activity-related needs
Our side will provide the following support:
1. the layout of atmosphere of the theme in activities site (Full Plaza)
2.speakers and lighting equipment during the event
3. External publicity (including graphic, outdoor, TV, radio, etc.)
4. prizes sponsors of the activity
5. retail float and layout
6. related hardware devices (such as the display holder of photo exhibition and other facilities)
7. related TV on-site interview and broadcast
The content which need your side support:
1. the event-related content and photograph (such as tourism, culture and other series show)
2. local bands and performing arts groups (Greek local dance or band)
3. Tasting of related industries and content of activity(such as olive oil, food display and Tasting, etc.)
4. related retail sales (Admission of Greece special goods)
5. prizes (provide part prizes as the activity support)
6. the attendance of relevant leaders, to increase the visibility of the activities