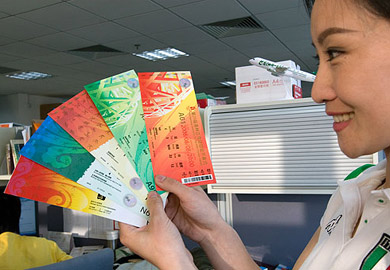 Fans on the Chinese mainland can look forward to another opportunity to purchase tickets to the Beijing Olympic Games starting May 5, when the third phase of domestic ticket sales is set to kick off. Tickets will be sold on a first-come, first-serve basis, and no lottery system will be adopted this time. The BOCOG Ticketing Center, Bank of China ticket outlets, Gehua Ticketmaster and the China Netcom Call Center are all set to process Phase 3 Olympic ticket orders.
From May 5 to June 9, some 1.38 million tickets will be available across 244 Beijing Olympic competition sessions for 16 sports and 17 disciplines.
Tickets can be purchased either online or at Bank of China ticket outlets. Anyone who plans to purchase tickets online but does not already have an account can register at www.tickets.beijing2008.cn beginning May 2. Anyone purchasing tickets at Bank of China ticket outlets must present a valid form of ID. Ticket buyers can expect to receive their tickets when they make their payment.
Look up available tickets before placing your order
Because tickets for some competition sessions sold out during the first two phases of ticket sales, fans are urged to check the "Detailed Availability Report" on www.tickets.beijing2008.cn to make sure tickets are still available for the competition session(s) they are interested in.
Ticket buyers who order tickets online but elect to pay at the Bank of China must pay for and pick up their tickets within three days of placing the order; otherwise, the ticket order will be canceled.