The Jokhang Temple, Lhasa's holiest temple, is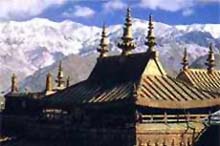 situated bang in the middle of the city in the Barkhor Market district, and is easily visited alone. If you are lucky, a tour guide will be able to give information on the places visited, although don't expect too much. Usually little more than a bus from the hotel to the site is provided.
Originally named "Ruosha",the Jokhang Temple was built in 547. According to legend,it was princess Wen Chen who chose the site for the temple through the methods of Ying-Yang and the Five Elements. The Temple is situated near the Wuotang lake in the old urban area of Lhasa. This space is considered to be the heart of a monster who the Tibetan's want to drive away and the space was filled with water and a temple built on the site to drive out the monster from the area.
After years of expansion, the Jokhang Temple is now part of a large group of buildings, covering a total area of 25,000 square meters. The four-storey main hall is magnificent with a Golden Summit. The statue of Sakyamuni that stands here is said to have been brought into Tibet by the Tang princess, Wen Chen. This statue is of paramount importance to Tibetan Buddhists and when the reincarnation of the Dalai and Pen Chen Lamas needs to be found, an official ceremony is held in front of the statue here.