Before entering the Jokhang Monastery,it is well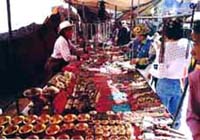 worth strolling around the old streets and alleyways nearby, to get a taste of the old Tibetan atmosphere about town. This area bursts with atmosphere and contradictions. On the one hand, this is one of THE holiest areas of Tibet, awash with pilgrims, monks, nuns and temples. On the other, the streets around here are the hub of Lhasa's commercial zone. Street traders, hawkers and market sellers fill the pavements around the Barkhor area. Today, this is not simply part of a pilgrimage circuit but also the heart and soul of the city.
Numerous weird and wonderful things can be bought including souvenirs, ornaments, Tibetan knives, Tibetan robes and hats, tapestries, religious musical instruments, gold and silver ware and prayer wheels....the list of magical souvenirs is endless.