Lhasa has been the capital city of Tibet Autono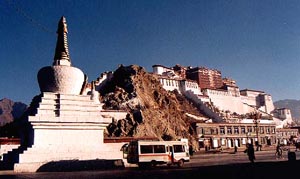 mous
Region since the 7th Century when Songsten Gampo built his palace here. Lhasa is one of the highest cities in the world, towering 3,600 meters above the banks of the Lhasa River. Lhasa is a religious center that amazes visitors with its breathtaking beauty and unique landscape.
Most of the historical sights here date back to the 1600s when the magnificent Potala Palace was built. The Potala dominates the skyline but Jokhang is considered to be the spiritual center of the city. Pilgrims flock to Lhasa to see and experience the remaining enclaves of tradition.
For the adventurous traveler, Lhasa is a city of intrigue and there is more than enough to hold you here for a few days.