Located in the heart of Wanchai and next to the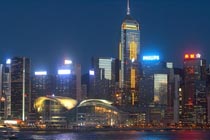 Wanchai ferry Pier, the Hong Kong Convention and Exhibition Center is one of the newest and more impressive buildings to go up in recent years. In fact, this is a fairly symbolic and important building as it was constructed to be the site of the 1997 hand-over ceremony. Hong Kong residents associate the building's huge, wing-like roof with the island's capacity to take flight and advance into the 21st Century.
Besides functioning as a conference center and banquet hall, there are numerous offices, restaurants and theaters in the building.