Aberdeen, with a population of more than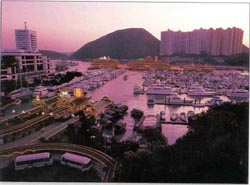 60,000 is the largest town on Hong Kong Island. The harbor here was once famous for being home to more than 6,000 people who lived on moored junks. Many of these people today however, have moved on and up into high rises, and there are less boats in the harbor than previously. Nevertheless, it is still a picturesque and photographic place. On arrival at the harbor, one of the numerous Sampan boat women will try and accost you and whisk you away for a sail. It is a fun thing to do and there are some great photo opportunities. These tours cost approximately RMB 50-70 per person for about 30 minutes, but this can be negotiated if there are more of you.
There is also a lovely Country Park here on the Aberdeen Reservoir Road. Tracks from the Park lead up to Victoria Peak.