Sai Kung peninsula and Clearwater Bay are out in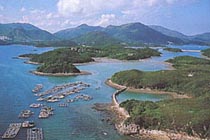 the New Territories- the area where one third of Hong Kong residents live. The New Territories are hugely popular with locals who want to escape from the city at the weekends. One of the nicest and most convenient spots to do this, is around Sai Kung.
The area around Sai Kung Town (once only a tiny fishing village), is a great place to do some good walking, take in some gorgeous scenery and do some swimming at the great beaches nearby. (Watch out for sharks however!)
One of the nicest ways to see some of the scenery and the beaches is to hire a small boat. By boat, you can either take a tour of all the islands (approximately HK$150) or just take a ride to one of the nearby beaches. The boat owners moor their vehicles by the pier in the town and will haggle to determine the fare. The boats regularly visit Sharp Island (Kiu Tsui Chau), White Sands Island (Pak Sha Chau), Pillow Island (Cham Tau Chau) and Salt Field Island (Yim Tin Tsai) where there is a small Christian Church.
After a hard day hiking or sunning yourself on the beach, there are some great little restaurants to eat in. Among the best ones are Pepperoni's Pizza and Cafe on Po Tung Road and the Tung Kee Restaurant which serve exquisite Cantonese seafood on Man Nin Street.
How to get there: Take the MTR to Choi Hung and leave at exit B. From the bus station on Clearwater Bay North Road take bus #92 or minibus #1 to Sai Kung Town.
Clearwater Bay is another favorite beach with locals and ex-pats from the city. This beautiful area is surrounded by rough rocks and wild scenery, which provide a stunning contrast to the slick city life of Hong Kong.
Clearwater Bay Country Park has some great trails which head off into the surrounding countryside or down to the beach. These trails are clearly marked and there are various lengths and difficulty levels too. There are two beaches here, both have clear white sand and gorgeous water for swimming. They can get fairly busy at weekends however, as they are quite easy to access from Kowloon and Hong Kong Island.