In 1955, Walt Disney created a place for the young to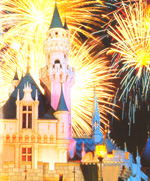 have fun together, which he called Disneyland. Nowadays, in Disneyland theme parks all over the world, the enchanting stories and timeless places literally come to life right before the eyes.
The Hong Kong Disneyland opened in September 2005. There is Main Street, U.S.A., Tomorrowland, Fantasyland, Adventureland, Hong Kong Disneyland Hotel and Disney's Hollywood Hotel. Meet all of your favorite Disney friends in person: Mickey Mouse, Donald Duck and Mulan right in Hong Kong!
Opening Times: 9.30 or 10.00 until 19.00 or 21.00. Please check before you arrive or at the Entrance Gate.