A vibrant meeting of East and West, Hong Kong is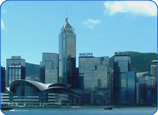 unique, dynamic and contrast-filled. The city has one of the world's most dramatic harbors, an incredible range of shopping, and breathtaking views.
Hong Kong Stock Exchange is the center of financial power in East Asia. The Bank of China and the Hong Kong Shanghai Bank are design masterpieces. Meanwhile, Hong Kong is most famous for its film.
With new attractions being added all the time, there is always plenty for visitors to see and do. And when you have had enough of the vibrant atmosphere, you can relax and enjoy the peaceful environment of the outlying islands and country parks.