Liuhua Lake Park(Liuhuahu gongyuan) consists of a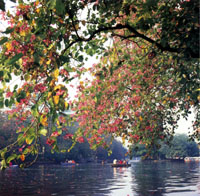 huge artificial lake dotted with a few islands and walkways and situated in the north of the city. This is a fairly unspectacular site. While on weekends it is almost unbearable as the crowds of families and couples swarm to play around the lake.
There are numerous facilities here including a badminton court, tea house, restaurant, nursery and a good sized aviary.
Opening hours: 05:00-22:30