Guangzhou, known in the West as Canton, is the capital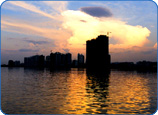 city of Guangdong. Legend says five gods riding goats brought the first grain to Guangzhou, hence its "Goat City" nickname. It's no myth, however, that Guangzhou is south China's main seaport, with rail connections to nearby Hong Kong.
The city features the National Peasant Movement Institute, founded by Mao Zedong and Zhou En Lai. Historical monuments include Dr. Sun Yat-Sen Memorial Hall, commemorating the Nationalist revolutionary movement, seated here in 1913. Many of the buildings and churches on Shamian Island are well maintained and rather pretty.
Perhaps the best thing about Guangzhou however is eating. The Chinese saying 'Born in Suzhou, eat in Guangzhou and die in Liuzhou' is a proper way to describe the wealth of great food available here. (Apparently if you are born in Suzhou you have a beautiful mother, and if you die in Liuzhou you will be buried in the finest coffins!) Eating is certainly the main pleasure for the local residents here and there are literally hundreds of good restaurants serving up authentic Cantonese cuisine.