Danxia Shan is a newly developed tourist destination
in Guangdong. As legend goes, it was the very place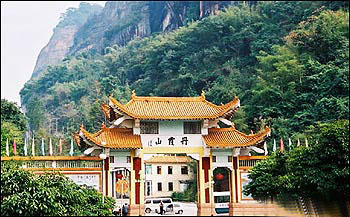 where mythological Lady Nuwa mended the leak in the sky and created human beings with five colour rocks, red earth and water from the nearby Jingjiang River. Danxia Shan is a 180-square-kilometer mountain area with stones and hills of fascinating and sometimes bizarre shapes. Danxia, which means 'red cloud', has a distinctive red sandstone land formation, called 'Danxia Topography'. Such topography is formed of water-dissolvable quartz as well as some minerals, which make stones most vulnerable to erosion year after year, detaching parts of stones and forming the current shapes. In China, Danxia Shan is known also as the 'Red Stone Park' for this distinctive topography.
There are three main peaks in the mountain area. 'The Old Man', the highest peak, offers you the best spot for sunrise watching. The most peculiar rock is the 'Yangyuan Rock', a pillar that stands up into the sky, which represents masculinity. Many pilgrims travel here to worship the rock hoping that the god will bring them a son.
Location: 50 kilometers northeast of Shaoguan in Renhua County.