Be of Wutaishan's most symbolic sights, the Tayuan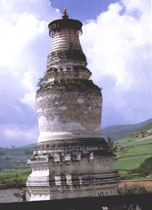 Temple (Tayuan si) is most famous for housing the Great White Pagoda (Da baita). This bottle shaped pagoda, rising to 50 meters in height, is painted a creamy white all over. The construction is from the Ming Dynasty (1368-1644 AD), and from its top hangs a total of 250 bronze bells, that make exotically eerie sounds whenever the wind blows.
To the east of the Great White Pagoda stands its cousin, the Small White Pagoda (Xiao baita), that is said to hold the hairs of the Wenshu Buddha (also known as Manjusri, Buddha of Wisdom), from when He made his earthly appearance.
To the north of the Great White Pagoda lies the hexagonal Sutra Holding Hall (Canjing ge), a wooden structure that boasts over 20,000 tomes of scriptures written in Han Chinese, Mongolian and Tibetan. Within, the sutras themselves are contained in an ancient hexagonal bookcase that rises through the hall's two floors.