The Dragon Spring Monastery (Longquan si), 5km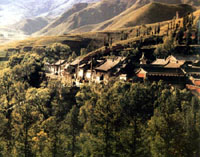 southwest of Taihuai village and across from the Nanshan Monastery, is most well known for the huge archway that is the temple's main entrance. The archway itself is made of white marble and is reached after a climb of 108 steps (a number that is both on the Buddhist rosary and that is meant to represent the sins that man may fall prey to).
The temple is a large sprawling complex that is divided into three parts, all connected by both major and minor paths. Along the central axis of the temple lie (in chronological order for those visiting) the Buddhist Deities Hall (Dawang dian), the Guanyin Hall (Guanyin dian) and the Grand Hall (Daxiong baodian). This last hall houses a large statue of Sakyamuni and eighteen arhats (Buddhist angels).
The temple's other main site can be reached from the door on the right hand side of the Buddhist Deities Hall, through which a small, white marble pagoda can be seen, the tomb of the accomplished Qing Dynasty (1644-1911 AD) monk Puji. As with the marble archway, the pagoda is elegantly decorated with Buddhist images.