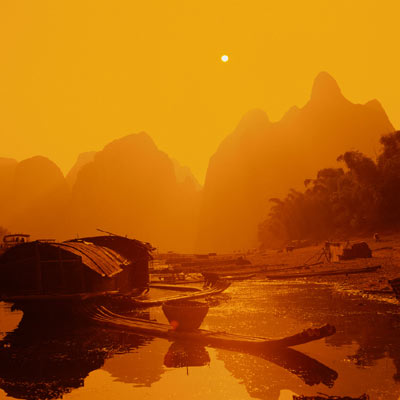 Famous for its wonderful scenery, rivers and karst peaks covered in lush greenery, Guilin is one of the most beautiful places in China. Guilin is situated along the Lijiang River. Though Guilin is very beautiful, many travelers simply pass here on the way to their true destination, Yangshuo. Yangshuo, 83 kilometers along Lijiang River, is settled amongst the most beautiful part of the Lijiang River¡¯s karst scenery. Less than two hours by bus, Yangshuo has become something of a backpacker¡¯s legend and the relaxed pace of life, good food (including some great western cuisine), friendly people, scenic beauty, flat landscape of rice fields and streams perfect for cycling.
Chinese Net Friends¡¯ Favorate Routes:
Guilin---Yangshuo [Li River Rafting, Da Rongshu, Moon Mountain(Yueliang Shan, West Street(Xi Jie) -----Guilin(Ludi Yan, Elephant Trunk Hill)---Liuzhou---Hechi
Li Jiang
At 8 o¡¯clock in the morning, get onto the tourist bus in Guilin to Mopanshan Dock(Mopanshan Matou). Take the tourist boat and stay at Li Jiang for 4 hours. In the afternoon arrive at Yangshuo. The evening of Li Jiang is also very beautiful.
Fengyuyan
In the morning start from Yangshuo by bus and reach Fengyuyan, Lipu County. (Take a long-distance bus from Guilin to Lipu, which costs about two hours. When you reach Lipu, rent a small sized guest bus to reach Fengyuyan. In the noon, visit Gaotian Scenic Area and Moon Mountain. Return to Guilin.
Elephant Trunk Hill-Diecai Hill-Fubo Hill---Seven Star Park
In the morning go to Xiangbishan and take photos, then go to Diecai Mountain and Fubo Mountain. And it takes about three hours to visit Seven Star Park. These scenic spots are not very far from each other, so take a taxi.