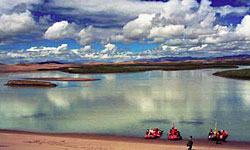 Lugu Lake, is situated in the center of Ningliang Yi Autonomous County, connecting Yunnan and Sichuan provinces on the northwest plateau of Yunnan. The lake and the surrounding area covers eight islands, 14 bays, and 17 beaches. Surrounded by high and sublime mountains, this area is one of the most spectacular of all China¡¯s natural spots and is remarkably well preserved and maintained.
The Mosuo people live along the shores of the Lake. This is a really interesting group, one of the few remaining Chinese minority groups that is completely matrifocal. Most adults live at their mother¡¯s home, only spending the night at their spouses home. The survival of this kind of ancient family structure in modern society is a rather peculiar phenomenon, regarded as "a live fossil for researching the marital development history of Human beings" and "the last quaint Realm of Matriarchy" by scholars and specialists throughout the world.
Above and beyond this, the lake is famous for its natural beauty. Seen from a distance, the lake really shines under a blue sky, and when mists and haze settle, the views are equally spectacular. Easily accessible from Lijiang, this is a pretty spot to escape the tourists and breathe in some fresh air.