As one of the key resorts in China, Xishuangbanna is located in the deep east of Yunnan Province close to the Burmese and Laoborders.The capital city is
Jinghong, which straddles the Mekong river.

Xishuangbana presents a typically beautiful view of the southern country:
Virgin tropical rain forests, rare and precious plants, garden like
surroundings, bamboo structures raised on stilts and habits of Dai people.

The mystic rain forest is a rare oasis on the tropic of cancer. The stretch of vast and fantastic green world is of tremendous vigor.
Exciting Actions: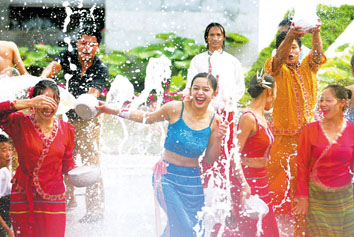 Splashing out
The Water Splashing Festival celebrated
in April is the merriest time of the
year for the people of Xishuangbanna.
It is a festival action of which Dai
people welcome New Year in
Xishuangbanna. The Dais¡¯ New Year¡¯s
Day is celebrated during April 13-15
every year. Don¡¯t bother showering
before going to the Water-splashing
Festival in Ganlanba.
Chinese Net Friends¡¯ Suggestions:

*
I grew up in Xishuangbanna and I love my hometown. Personally, I think the most beautiful season of Banna is in June, July and August. In these months, the rain forest is tremendous, verdant and full of life.
*
There many Dai style bamboo buildings in the Minority Park of Ganlanba. All these bamboo buildings can be accommodated. The price is very cheap, RMB50 for four persons per day. It is very comfortable to live in the bamboo buildings. Enjoy barbecues by the furnace, or have a talk with the local people. What¡¯s the most interesting, this kind of bamboo buildings are scenic spots in other visitors eyes.

*
Local PINEAPPLES! The sweetest pinapple I had ever tasted.
*
Itineraries for Reference
1. Exploring the virgin forest by foot:
Arrive at Jinghong, accommodate in the hotel
Walk 15 kilometers to Ake Village/Buni Village. There are local houses, waterfalls, and beautiful scenery.

2. Jinghong---Ganlanba
Set off from Jinghong bus station in the morning. In Ganlanba there are ethnic craftwork shops, restaurants and hotels.
3. Jinghong---Daluo Town
Set off from Jinghong Bus Station in the morning. Daluo town is 80km from Menghai county seat and 134km from Jinghong. In Daluo town and its development zone are a cross-border market, restaurants, hotels and inns. After the trip, tourists could return to Jinghong by taking a Daluo-Jinghong bus. Buses at the station leave every hour during the day from 8:00 a.m. to 5:00 p.m.
4. Go Hiking
Exploring Yao Ethnic Groups
Take buses to Mengxing Huigui Electric Station, walk past Huanglian Mountain, Dashan, and Virgin Forest. Have a picnic at the bank of the river, and lodge by the river(Tent). The whole distance lasts for 8 kilometers. Take the buses back to Jinghong.