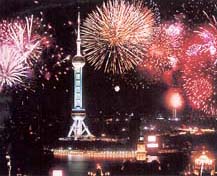 Shanghai is the " Oriental Paris " and "Pearl of China". As the largest and most prosperous city in the nation, Shanghai is the economic, financial and cultural center.

What makes Shanghai particularly attractive are the many different styles of architecture and design throughout the city. Shanghai was once divided up into different "Concessions" or districts and the boundaries of these areas still remain today.

The famous Bund was the "British Public Park", reminding of Shanghai¡¯s days of decadence. The Japanese and the French Concessions too, are fascinating areas to explore. The French Quarter is a particularly charming district to wander, and there are many former residences to look at and discover something about old Shanghai and the people who lived here.

The area known as the "Chinese City" is also worth visiting. Take a break from the tourists around the Yuyuan and do some serious antique shopping or just wander amidst the old alleys and streets.

Shanghai is a spectacularly modern city. The pace of development here is unbelievable. Currently, seventeen percent of the world¡¯s cranes are in the city and developers boast that the city is changing at a rate incomparable to anywhere else in the world ever.

The newest area of the city, Pudong, has just celebrated its 10th anniversary. Two of the most impressive city structures can be found here, the Jinmao Tower and the Oriental TV Tower.

For any visitor to China, perhaps the most attractive thing about this city is just how fashionable it is. Museums, galleries, restaurants and bars have emerged in the past few years. The heydays of the 1920s and 30s and the newfound wealth in the city are making Shanghai a place with a fabulous and optimistic style and attitude.